Marina Dredging & Maintenance
The accumulation of silt, sand, and other sediments in harbors around the world leads to boats running aground, damaged hulls, navigation issues, and lost business to neighboring marinas with proper maintenance programs. Marina dredging is an annual activity for some marina operators, but only once in 10 years for others. If a marina needs dredged at least once every two years, the rule of thumb is that it makes more economical sense to buy a dredge rather than hire a dredge contractor each time.
If you would like to speak with someone about Versi-Dredge equipment and your marina maintenance & dredging needs, call (866) 483-0014 or  click "Get Started" below to tell us about your project.
IMS Versi-Dredges Maintaining Ports & Marinas Around The World
Versi-Dredge Capabilities
The Versi-Dredge is ideal for marina maintenance, as the system can clean anywhere from 6.7m (22 ft.) to 9.1m (30 ft.) in depth. The Versi-Dredge can maneuver between docks as narrow as 12 ft. wide and clean under them with additional dredge ladder extensions. The Versi-Dredge can also clean out large marina basins and keep all approach channels clear.
The patented Starwheel Drive self-propulsion system allows marina operators to dredge anytime year-round without shutting down the entire marina. The Starwheel Drive system does not require anchors or cables, which prevents damage to boat hulls and docks, which is common with cable driven dredges. The Versi-Dredge is operated by a single person – unlike cable driven dredges that require multiple people to reset anchors and cables every time the dredge moves to the next dredge slip – saving money on fuel and labor.
In a typical, medium-sized marina, a complete harbor and marina dredge system can pay itself off in fewer than two uses. IMS can provide estimated operating and capex costs to show buyers how they will save money. In addition, lease / purchase options are available for North American marina operators.
The Versi-Dredge is the least invasive dredge available on the global market for marina dredging operations. There are no barges needed for disposal, no anchors, no swing wires, and never a need to remove docks or pilings to get the job done.
An IMS Model 5012 HP Versi-Dredge owned by the Town of Cobourg, Canada removes sand from Port Hope and pumps it onto an adjacent beach to restore sand levels.
As featured on the BBC News, an IMS Model 5012 HP Versi-Dredge cleans out the Gloucester's docks in the U.K. to prepare for the local boat festival.
An IMS Model 7012 HP Versi-Dredge in Malaysia cleans out a luxury marina. 
An IMS Model 7012 HP Versi-Dredge cleans out a fjord in Norway.
The U. S. Army Corps of Engineers Los Angeles District dredges Marina del Rey Harbor in Western Los Angeles County.
An older Model IMS Versi-Dredge cleans out Ashdod Blue Marina's entrance channel in Ashdod, Israel.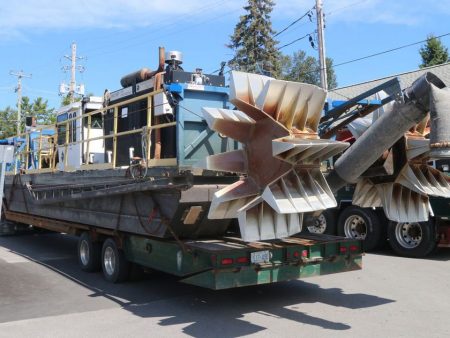 Boaters visiting or departing Wellington Harbour are reminded to exercise caution for the next couple of weeks as a large piece of dredging equipment clears built-up sand from the channel leading to Lake Ontario.