IMS holds the patent for the WeedMaster cutterhead, which is the only cutterhead in the world proven to effectively cut and pump rooted, floating and emergent vegetation types from 6 in. (152mm) tall to 12 ft. (3.7m) tall.
The WeedMaster bolts directly to the dredge ladder and turns the Versi-Dredge into an aquatic hydraulic weed harvesting machine that can cut and pump hyacinths, milfoil, cattails, reeds and other vegetation, and pump it up to 3,280 ft. (1km) distance.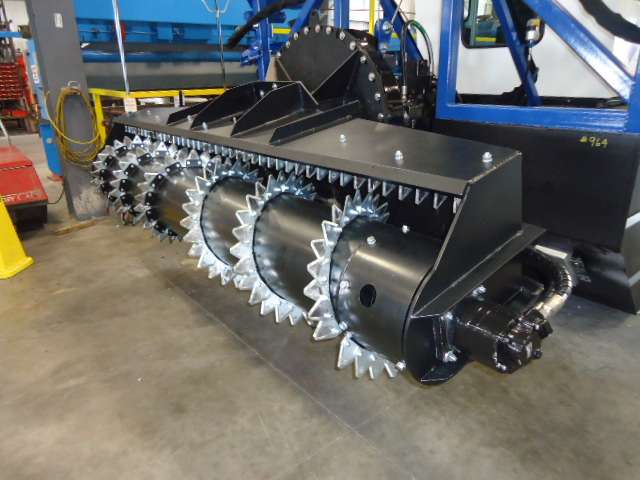 Most weed and vegetation dredges cut the weeds down to a maximum depth of 6 ft. (1.8m) and store them in a hopper that must be periodically emptied on shore. This requires unloading barges or pier and shore conveyors, all of which increase labor and diesel fuel costs. The WeedMaster is much more efficient because it chops weeds into 3-5 inch (76-127mm) pieces and pumps them to the shore, up to 1km away, using the vegetation dredge pump.
The WeedMaster cutterhead will operate differently in every application. Unlike dredging sand or mud there is no uniformity in cutting vegetation. There are different densities, different stem circumferences, and depending on the season different fiber strengths.
IMS Dredges has put together the following estimates based on customer feedback from the field. These estimates are conservative and are for clearing and removing extremely dense vegetation. IMS estimates that you will achieve between 1-2.5 acres of production per day (more with floating vegetation like water hyacinths).
Removing Floating Vegetation (Hyacinths):
Equipment Utilized: IMS Versi-Dredge, IMS WeedMaster Cutterhead, IMS Weed Rake Feeder Attachment, IMS Winglet Impeller
Duration: 1 hour
Surface Area Cleared: 202.5 m2/hr.+
Height of Vegetation: 0.3 meters
Removing Dense Rooted Vegetation (Grasses, Cattails, Reeds, etc.):
Equipment Utilized: IMS Versi-Dredge, IMS WeedMaster Cutterhead, IMS Winglet Impeller
Duration: 1 hour
Surface Area Cleared: 50-100 m2/hr. + depending on stalk thickness, root mass, and depth at which the vegetation sits in the mud.
Height of Vegetation: 1m – 3m