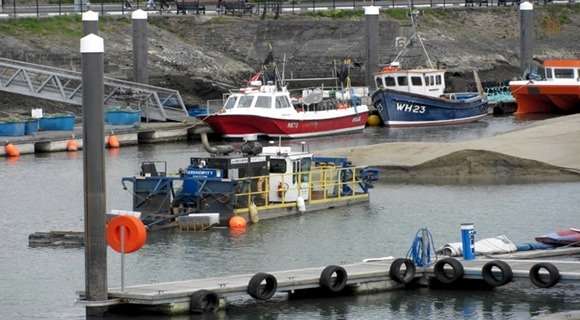 Land & Water were contracted with Carmarthenshire County Council to remove the build up of sand from the marina that had been washed in by the tidal currents.
The dredged material was used to cover debris along the adjacent foreshore where previously, demolition materials had been left on the beach.
Land & Water's cutter suction Versi dredger was employed to breakup the compacted sand and then pump it over the marina wall along the foreshore to the disposal site. The dredger was fitted with a Tower Dig system enabling the operator to have screen view of the cutter heads depth and position. This was particularly important at Burry Port as the underlying silt could not be dredged or deposited on the adjacent foreshore.
Due to the continuing deposition of sand from the tides and the movement of sand within the marina, it was important to carry out continuous hydro graphic surveys as well as the pre and post dredge surveys.