Mine tailings are the natural byproduct of raw materials mining. As rocks and minerals are crushed and washed, the effluent water carries the dust particles to settling ponds where the material is collected and eventually removed. It is then hauled away for a secondary process or stored for long periods of time. In many cases, these byproducts commonly referred to as "fines" or "tailings" have high value (ex. gold tailings or coal fines) and can be mined again with a hydraulic mine tailings dredging system and pumped to a dewatering or separation plant for reprocessing.
If you would like to speak with someone about Versi-Dredge equipment and your mining tailings dredging needs, call (866) 483-0014 or  click "Get Started" below to tell us about your project.
IMS Versi-Dredges Mining Tailings Around The World
Versi-Dredge Capabilities
The Versi-Dredge can be used for clearing tailings ponds and direct feeding dewatering plants with the SolidsMaster cutterhead, which can produce a continuous solids feed of 20-25% – depending on the material. In addition, the WeedMaster cutterhead can be used in mine tailings dredging to remove cattails and other vegetation, which commonly build up on the edges of these ponds.
Kayden Industries Environmental Services Division completed a coal ash dredging and desludging project in Georgia in the summer of 2019.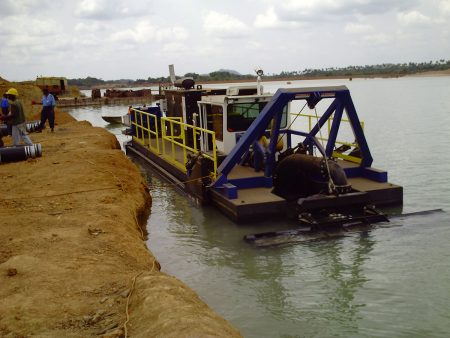 A build up of slimes in the Lanti South pond where Dredge D1 is mining resulted in a number of mechanical breakdowns to pumps and reduced recoveries in the wet plant, with a knock on effect on dredge availability notably in Q3.
Titanium Resources (Sierra Rutile Division) purchased a new IMS Model 7012 HP Versi-Dredge® w/ Booster Pump and pipeline which was financed entirely from existing cash flows.