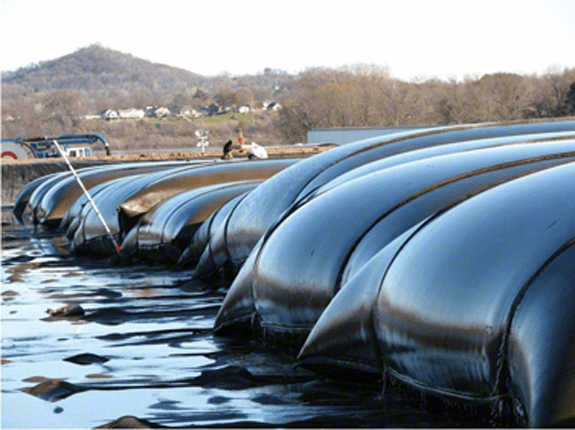 NEWS FLASH: Extension of the Taxiway F North at the La Crosse Municipal Airport was essential to airport operations with the goal to have the taxiway open in the fall of 2011. The extension ran through a bay located in the southeast corner of Lake Onalaska.
Placing fill could not be accomplished until sediment up to 4' in depth was removed from the floor of the bay. Removal of the sediment using hydraulic dredging was the most cost- and time-efficient method, while handling of the sediment remained a challenge. The engineering and design team chose to use geotextile tubes placed in a lined cell to allow for dewatering of the sediment and return of the effluent to the lake.Five geosynthetic materials were used to accomplish this. Materials and applications used were:
linear low density polyethylene membrane to line the cell to manage effluent.
Approximately 16,500 cubic yards of sediment were dredged and dewatered in a timely fashion to allow for placement of 160,000 tons of fill material in a narrow construction window. If the project had not been completed within the proposed time line, the completion date would be in jeopardy. Good engineering and design combined with a team of motivated contractors and suppliers using numerous geosynthetics assured that the 2011 deadline would be met.
This project underscored the versatility of geosynthetics as well as the evolvement of the industry. The use of a nonwoven fabric for separation on this project represents one of the most time-proven functions of a geotextile. Using variations of the early fabrics for dewatering sediments draws attention to the creativity of our industry to find other end use applications for materials that are significantly different from their original purpose. An often overlooked benefit of using geotextile tubes to dewater sediment is the fact that this methodology is the most eco-friendly option.
This project underscores the creativity of our industry and the confidence of the engineering/design community in our products across a wide range of applications.