LAKE LOTAWANA, MO – Lake Lotawana Association celebrated the launch of their brand new 2015 Model 7012 HP Versi-Dredge at Buffalo Cove on May 1, 2015. In attendance was Dave Wagner, Dredge Committee Chairperson, outgoing Mayor, David Welsh and Ward III Alderman, David Tillema as well as IMS President, Jim Horton, IMS Vice President, Ryan Horton, and IMS Technical Sales Manager, Michael Young.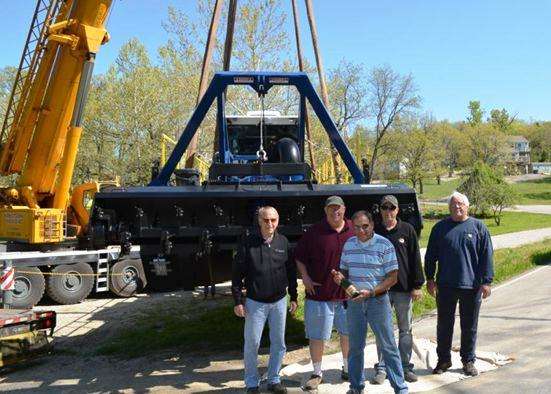 Lake Lotawana was constructed in 1927-1928 and incorporated as a city in 1958. The lake is 450 acres of surface water with 27 miles of shoreline and has over 2,000 residents, making it the largest private lake community in the Kansas City area.
The growth and stability of Lake Lotawana is owed to its strong board of directors and residents like Dave Wagner who strive to protect the lake environment and the financial security of the lake association. Wagner moved to the lake in 1966 with his family and has been there ever since. He served as Association President from 1986 to 1992, helping reconstruct 15 miles of private roads to improve the community, and headed up reconstruction of the lake's dam and required safety registration with the State of Missouri.
"It is rare that we run into a lake resident like Dave Wagner. His motives are 100% in the right place. He cares about the residents, the Lake's Association, and the environment. We often walk into association meetings and there is lots of arguing, finger pointing, or it is clear that board members have their own agenda like getting their own dock dredged or investing in a dredge for their own personal use when the lake is done with it. Dave, the entire Lake Lotawana board, and dredge operator – lake resident, Monte McLin – just want to get things done and get them done right, and that is clearly what they have accomplished and continue to plan on doing for the future" said Ryan Horton, IMS Vice President.
Between 1988 and 1993 the lake was dredged by a contractor three separate times. The contractor used a cutter suction dredge with spuds and swing wires. All of the docks had to be moved due to the underwater spud anchors and cables. Realizing that using a contractor was not a long term financially sound plan, Dave started researching the purchase of a dredging system and starting an in-house dredging program for the association to reduce costs and give the lake association greater control over the depth and clarity. After researching all of the dredge builders in the industry, Wagner recommended the Model 7012 HP Versi-Dredge (generation 1) to the Lake Lotawana Association Board, purchased in 2001.
Dredging was funded by the creation of "Benefit Districts" which were assessed fees based on the property ownership classifications. For example, 1st Tier lakeside lots with houses paid a higher assessment than 2nd Tier roadside homes. Other development features, such as detached garages, boat dock ownership and vacant lots, were also factored into the dredging assessments. "Lake property located in cove areas with less than eight feet of water were considered in the assessed Benefit District. Our goal was to begin at the eight foot level and work our way back into the coves restoring water depths to the original lake bottom", said Wagner. The remaining balance needed to purchase a new dredge was through voter-approved community wide Special Assessment.
After 14 years of maintaining the various coves around the lake, the association realized it was time to invest in a new dredge and sell their old unit, which had served its purpose. With IMS's help, the association was able to sell their original 7012 HP for 52% of its original purchase price almost a decade and a half later.
The association's new 2015 Model 7012 HP Versi-Dredge was selected based on their satisfaction with their previous dredge. Before moving forward with the new purchase, Wagner and other association members flew to the factory and inspected the model they were going to purchase and plan on taking part in simulator training on IMS's state-of-the-art dredge simulator. Differences between the first generation 7012 and the current 2015 model include: increased horsepower from 375 HP to 445 HP, increased pump size from 8×10 to a 10×12, advanced IQAN™ user interface, anti-corrosion package, increased dredging depth from 25 ft. to 30 ft. and an overall more efficient layout.
The association has clearly implemented a first class dredging program. The lake clarity is very high and residents have full access to the lake through their well-maintained coves. It is near impossible to find a lot on the lake for sale. When a lot goes up for sale the neighbors to the right and left have first right to purchase the land and then the association is given the option. When you look up Lake Lotawana on Google Earth and zoom in you can see there is no space left for new homes on the shoreline. When a house goes for sale it is quickly purchased and in many cases taken down and a new home erected. The association's dredging program is clearly making a difference.
According to an article published on May 27, 2003 by the Associated Press titled "Study: Water Quality Boosts Land Value," it was determined by researchers at Bemidji State University in Minnesota that there is a direct relation to property value and the depth and clarity of a lake. Charlie Parson, a geography professor and co-author of the study said, "We concluded that water clarity is very significantly related to the price per foot of lakeshore. We have enough lakes and enough parcels to establish that this is a real relationship."
Wagner said, "If it were not for the support of our members, the guidance of various boards, dedication of Greg Rudder, our Operations Manager, his staff, and clearly the skills, talent and downright persistence of Monte McLin, our dredging program would never have made it. In fact, I bet one would be hard pressed to find a private lake association in the entire country that has been able to establish and operate a successful DIY dredging maintenance program over an extended period of time", he added.
Lotawana's dredging program is clearly a model. Other associations can learn from their success and create their own in-house programs to increase property values and secure the future of the lake community for generations to come. IMS is pleased to offer advice to associations looking at starting their own in-house dredging programs.