SUTHERLAND, NE – Plains Dredging of Kearney, NE found themselves in a difficult position in early October when the dredge they rented was not performing properly at Sutherland Reservoir operated by Nebraska Public Power District. The project involved dredging fine sand and mud as well as intermittent baseball size chunks of wood and heavy patches of seaweed from a channel near Gerald Gentleman Station.  The dredge cutterhead was not aggressive enough and the pump inlet was clogging every 15 minutes causing unnecessary downtime for the Plains Dredging field crew. Kenton Kabes of Plains Dredging reached out to IMS to find a fast solution to ensure they met their contractual obligation.
"When Kenton of Plains Dredging reached out, he was clear that they needed a solution yesterday. They needed to increase solids performance, significantly reduce downtime due to pump clogging, and maintain better positioning in the channel on windy days. IMS's patented Pump Defender®, Starwheel Drive®, and Traction Master® technologies were able to solve the problem," said Ryan Horton, Vice President, Ellicott Dredge Technologies, LLC.
Fortunately, EDT had a brand-new IMS Model 5012 HP Versi-Dredge® in stock and available for immediate delivery. The bank transfer was made on a Wednesday and the dredge was on site and ready to go with EDT Factory Field Service Technician, Rob Carufel, on site by Monday. EDT's ISO 9001:2015 certified factory was able to get the dredge discharge hoses, adaptor, and dredging GPS installed prior to shipment.
"The IMS 5012 HP is everything it was portrayed to be. We increased solids to 30% by volume, reduced pump system clogs from once every 15 minutes to once a week and increased our stability in the channel with the Starwheel Drive with Traction Master technology. IMS builds one hell of a machine," said Kenton Kabes, Plains Dredging.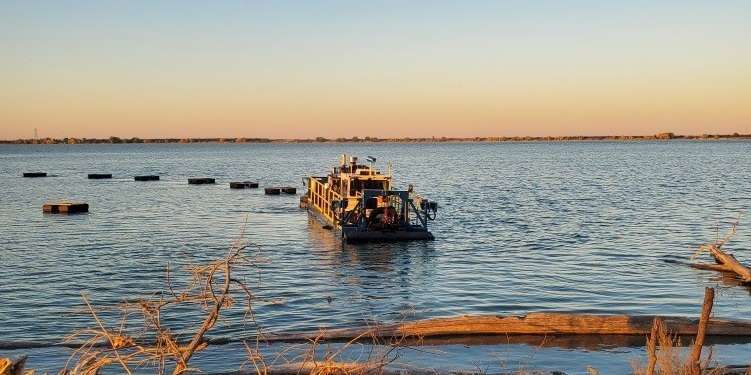 This is Plains Dredging's second IMS Versi-Dredge. Their other unit is from the 1990's and is still operating regularly in lagoons around the Midwestern U.S. The 5012 HP Versi-Dredge adds versatility to Plains Dredging's operation with its one truck transportability, patented Starwheel Drive self-propulsion system, 22 ft. dredging depth, modern operator's cabin, and the patented Pump Defender which can reduce downtime in debris rich environments by up to 80%.
"The 5012 HP Versi-Dredge eliminated all the issues that Plains Dredging faced. They increased their cutter power by 117% with the SolidsMaster cutterhead, eliminated constant debris clogs with the Pump Defender, and drastically improved their ability to stay in the cut with the Starwheel Drive system," said Ryan Horton, Vice President, Ellicott Dredge Technologies, LLC.
For more information on self-propelled IMS Versi-Dredges please contact EDT Sales at [email protected] or call 913-642-5100. Also, visit www.imsdredge.com. For more information on Plains Dredging and their dredging services offered in Nebraska, Kansas, Iowa, Missouri, Colorado and more please visit www.lagoondredging.com.
As seen on Dredgewire.com