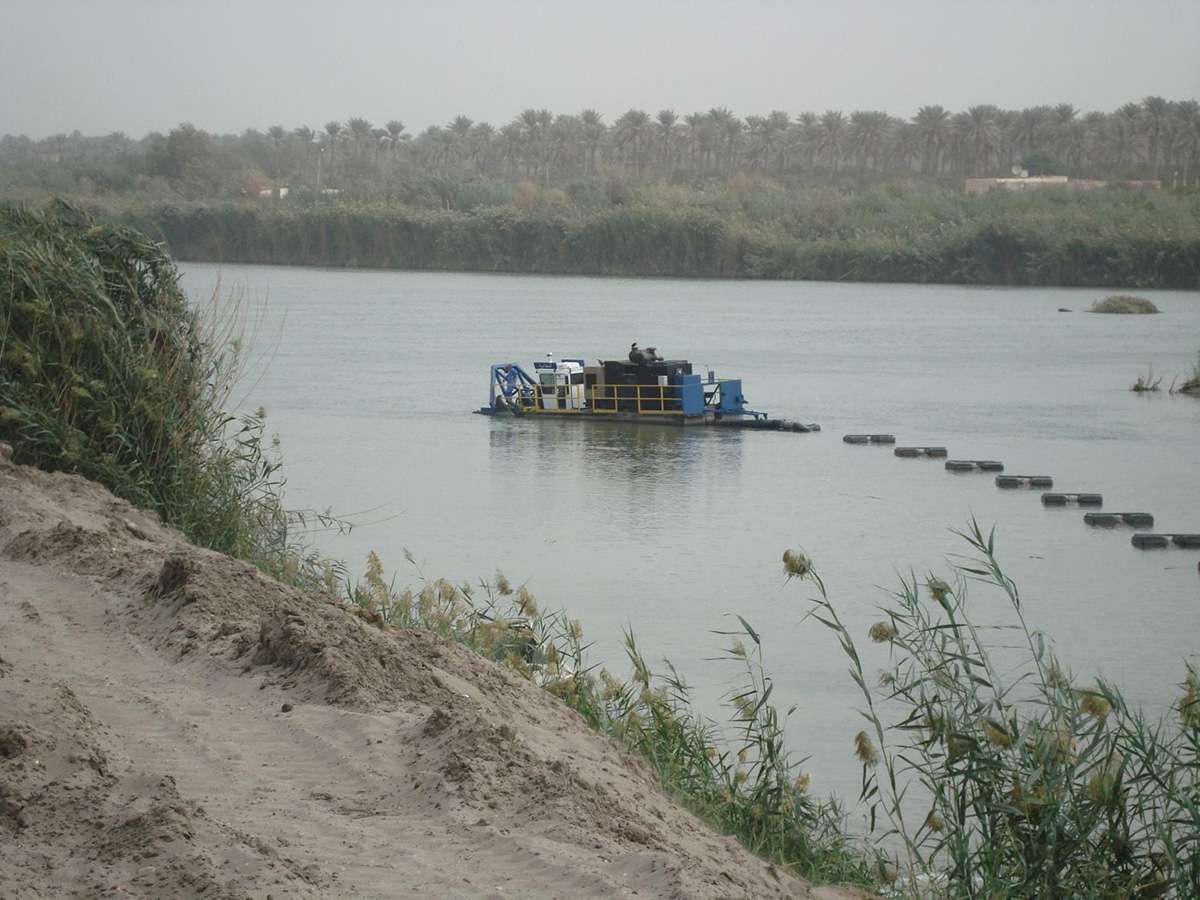 IRAQ – IMS Division of LWT, LLC has been active in the maintenance of Iraqi waterways from 2006 to present as part of Iraq reconstruction. During this time IMS has delivered patented self-propelled Versi-Dredges® to the Iraq Ministry of Water Resources (MWR) and also to the Naval Transition Team (NaTT), in conjunction with the U.S. Department of Defense.
This year IMS delivered multiple Model 7012 HP Versi-Dredges® to MWR.. MWR will use these units, named Al-Baghdadia and Al-Iraq, in rivers and canals for general upkeep of navigable waterways. These systems will help not only improve navigation but also improve water flow for agriculture and help insure proper water storage.
Peter Bowe of IMS signed the Ministry of Water Resources contract for Al-Baghdadia and Al Iraq on site in Iraq in early 2007.
Training will be completed by several Ministry of Water Resources engineers visiting IMS's brand new state-of-the-art factory in New Richmond, WI during the second quarter of 2008. IMS will provide full operational training at its training facility which includes an interactive classroom and a demonstration pond.
IMS delivered its first dredge to Iraq, a Model 5012 LP Versi-Dredge®, to the NaTT at Port Umm Qasr Naval Base in 2006. The dredge was purchased by the U.S. Department of Defense on behalf of the Iraqi Navy in conjunction with NaTT to help clear the naval patrol boat lifts at Port Umm Qasr Naval Base.
"Due to the geographical location of the Iraqi Navy's ship lift on a outer apex to the Khawr Az Subayr at Umm Qasr South Port, it is subject to regular and rapid build up of silt, quickly rendering the lift inoperable," said Lt. Commander Rick Steele, Executive Officer of NaTT.
Without an in house dredging program the Iraqi Navy would not be able to maintain its patrol boat fleet using its boat lifts system.
"At the time that the dredger was delivered the ship lift had been out of action for 2 months through heavy silting. As a result the Iraqi Navy had a backlog of Patrol Boats that needed to be launched and docked, and this was severely affecting their ability to provide security around their strategically important oil platforms," said Captain A D Radakin of the Royal Navy.
IMS sent over a field service technician to start up the 5012 LP on site at Port Umm Qasr.
"I can not explain the importance of this on site training as this was critical to getting the dredger operating and the ship lift cleared of silt," said Captain Radakin. "This successful dredging project led directly to the undocking and return to operation service of an Iraqi patrol boat. IMS's team has provided a first class service and has directly assisted us in our efforts to reach transition and hand over security of the Iraqi Maritime assets to the Iraqi Navy."
IMS offers a full line of dredges to handle various inland and inner-coastal dredging projects. In addition to these developments in Iraq, IMS is also providing dredging systems to Pakistan for port maintenance projects. IMS has sold elsewhere in the Middle East for marina maintenance as its self- propulsion feature and avoidance of cumbersome cable positioning systems makes IMS dredges ideally suited to confined area dredging applications.