Every year the need for river dredging increases around the world. Communities that surround the natural flow of a river are susceptible to annual flooding during the rainy season. If the river is not properly maintained, silt, sand and debris can accumulate and form a bottleneck. If a major rain event occurs then the bottleneck will restrict flow and the river will rise above its banks and flood local businesses and dwellings, causing millions of dollars in property damage and possible loss of life. River dredging is necessary to maintain the natural flow of rivers and limit the potential for disaster.
If you would like to speak with someone about Versi-Dredge equipment and your canal maintenance & dredging needs, call (866) 483-0014 or  click "Get Started" below to tell us about your project.
IMS Versi-Dredges Maintaining Rivers Around The World
Versi-Dredge Capabilities
The Versi-Dredge has been utilized for various river dredging activities around the globe, including flood mitigation, sand mining, navigation channel deepening, and environmental dredging. The Versi-Dredge's one-truck transportable design allows municipal governments and contractors to quickly deploy the dredge to a trouble spot and open it up to maintain proper depth and hydraulic flow. The dredge can then easily be removed by a single crane and stored off site until it is needed for river maintenance again.
In the case of environmental dredging, the Versi-Dredge can be outfitted with a customized pump that can cut and pump cans, bottles, plastic bags, ropes, rice sacks, etc. without clogging like normal hydraulic dredges do. This allows operators to remove silt and mud from rivers where dense populations have used the river as a trash can.
In the case of pollution clean-up, the Versi-Dredge can be put into cable drive mode and a GPS system and environmental cutterhead can perform surgical dredging in a precision grid format to remove layers of contaminated materials from rivers and pump them to a water treatment plant on shore.
An IMS Model 5012 LP Versi-Dredge® cleans silt, sand, and debris from river flowing through the City of Marikina, Philippines.
An IMS Model 7012 HP Versi-Dredge® deepens a river in the Philippines.
An IMS Model 5012 LP Versi-Dredge® cleaning the contaminated Bogota River in Colombia.
An IMS Model 5012 LP Versi-Dredge® uses the IMS Broadcaster Discharge Attachment to spray nutrient rich mud onto mangroves in Trinidad.
An IMS Model 7012 HP Versi-Dredge® with a Dual Broadcaster Discharge Attachment dredges a river channel in Iowa to prevent future flooding.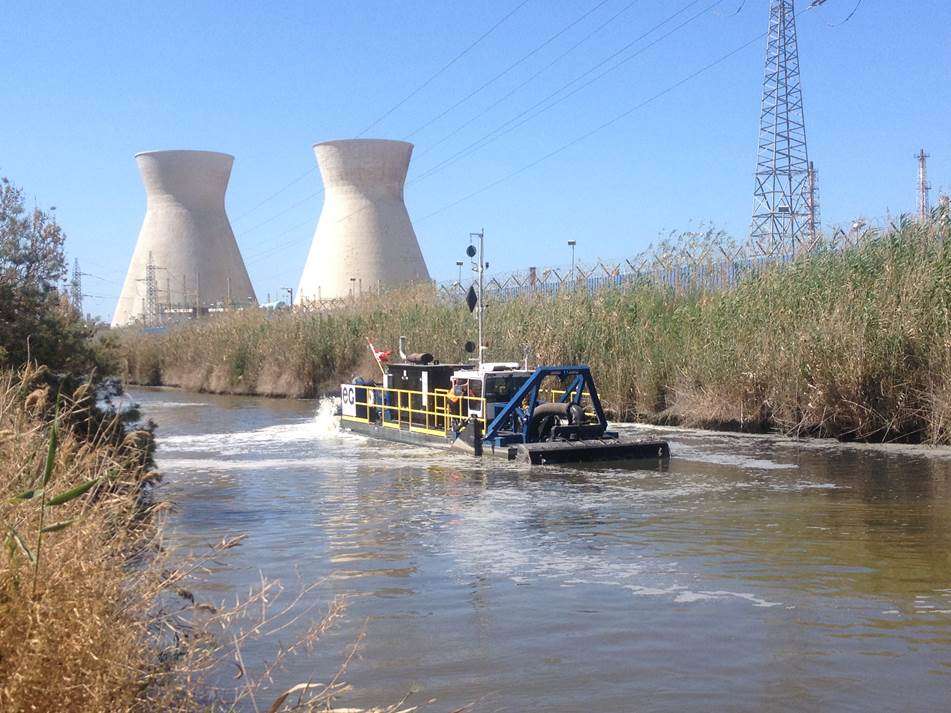 A giant sewage dredger has begun extracting sediment from the Kishon River, kicking off the latest stage of rehabilitation efforts in what was once Israel's most polluted waterway.