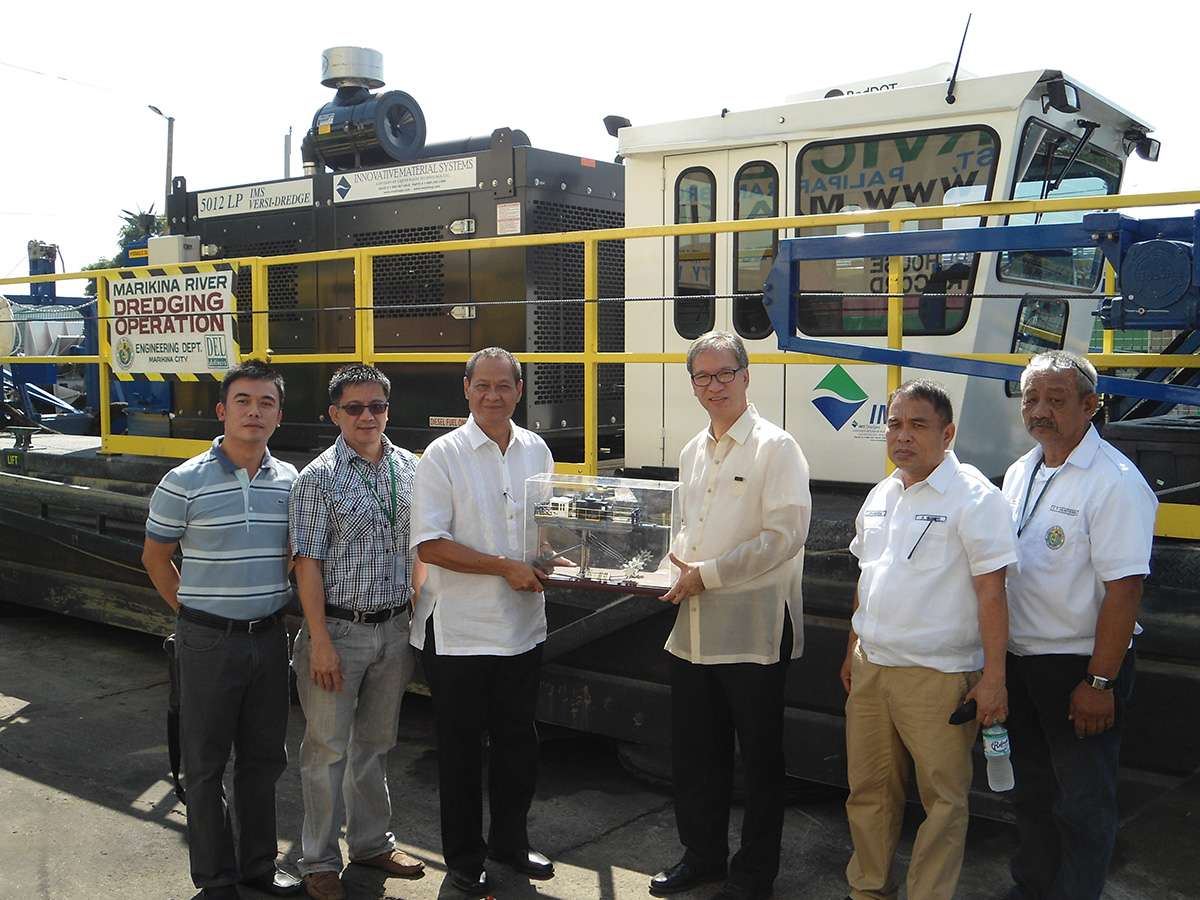 MARIKINA, PHILIPPINES – IMS is pleased to announce that Marikina City's IMS Model 5012 LP Versi-Dredge has been successfully operational since early 2014 in Marikina River. The dredge was purchased as part of the city government's river rehabilitation and flood alleviation program.
"We applaud Mayor Guzman for his forward thinking. He did the right thing by investing in a state-of-the-art flood prevention tool and saving the city millions of dollars in flood damages a year. We are seeing more and more of this progressive thinking in places like the Philippines where annual flooding is a way of life. If the municipal governments take care of their stretches of rivers and canals then overflows onto private and public property will be a thing of the past," said Ryan Horton, IMS Global Sales Director.
IMS commemorated the occasion by presenting a replica of the Model 5012 LP Versi-Dredge to Mayor Del R. De Guzman and his city engineers.
The dredge will continue to remove sand, mud and trash from the Marikina River and help maintain a clear waterway so high water flows don't get caught up in bottle necks and overflow onto private and public property. The 5012 LP Versi-Dredge's proprietary pump design can pass up to a 152mm (6 in.) solid making it the ideal hydraulic dredge for debris rich waterways.
In a television interview on PTV Omnibus Philippines, Marikina Vice Mayor Dr. Jose Fabian Cadiz explained the importance of the dredge, "This is one of the primary projects of the Disaster Office, to dredge, deepen and to widen the whole course of the Marikina River within the City of Marikina."
"Marikina City, Olongapo and others purchasing dredges for flood prevention in the Philippines are setting the benchmark for flood control at the municipal level. I can think of a few other countries that should take notes from the City of Marikina and its leadership. At the end of the day it should be a much easier decision to buy a dredge than to pay millions in public and private property damages," said Horton.
IMS has supplied dredges to municipalities and private buyers in the Philippines since the 1990's.