Lake & Reservoir Dredging
Lake dredging is increasing in demand around the globe as cities restore inland lakes for tourism, and developers build high-end real estate on every square foot of shoreline possible. The construction process itself can silt up a lake shoreline if proper erosion control safeguards are not put into place.
Without routine dredging and maintenance, lakefront property values decline significantly as access to docks diminish and water becomes murky. As silt and nutrients overtake a lake, massive vegetation and algae build up and can lead to a state of eutrophication and death of the local fish population due to hypoxia – or lack of oxygen. Lake dredging can prevent eutrophication and, in most cases, can reverse the process.
Reservoirs provide drinking water and power to human populations around the globe. They are also the food source and habitat for many species of plants and animals. Natural erosion, pollution and deforestation all contribute to the clogging of reservoirs with silt and other debris that threatens these resources.
If you would like to speak with someone about Versi-Dredge equipment and your lake or reservoir dredging needs, call (866) 483-0014 or  click "Get Started" below to tell us about your project.
IMS Versi-Dredges Restoring Lakes Around The World
Versi-Dredge Capabilities
LAKE DREDGING
IMS Versi-Dredges have been used and are currently in use in lakes around the globe to increase property value, restore public lakes for tourism, and to clean contaminated lakes for future generations to enjoy.
The IMS Versi-Dredge's patented Starwheel Drive self-propulsion system allows the dredge to move easily in coves and along shorelines during lake restoration without the use of anchor cables or swing wires, which can damage boat hulls and docks. The Versi-Dredge can be used to clean out shallow areas like coves and, if necessary, the Depth Master can be used to clean deeper lake areas like dams.
Reservoir Dredging
Dredging is a necessary maintenance activity for reservoirs around the globe. The Versi-Dredge and Depth Master are ideal for dams as they are one-truck and two-truck transportable dredging systems that are easy to mobilize over narrow roads overlooking steep cliffs. In addition, they are easy to assemble and launch once they get to the job site.
The Versi-Dredge can reach to a maximum depth of 9.1m (30 ft.) and the Depth Master can reach to a maximum depth of 18m (60 ft.), ideal for reservoir reclamation. There are many dredges around the world that can reach 18m, but the Versi-Dredge is the only one that has a ladder mounted pump, is self-propelled, and can ship up a narrow mountain road in two sections. Most dredges that dig down to 18m take 4 to 8 trucks to transport and would be impossible to launch if they could actually make it to the remote reservoir sites.
Whether you need to remove silt from turbines that power a global financial district 10 hours away, or you need to remove a floating mat of hyacinths from the dam intake, the Versi-Dredge or Depth Master can solve the problem. The patented IMS WeedMaster cutterhead can easily cut and pump weed cover up to 1 kilometer away. The Depth Master can clear silt from turbine areas and restore the overall capacity of the reservoir.
One of Brownsville Public Utility Boards IMS 5012 HP Versi-Dredge units cleans heavy mud from a resaca in Brownsville, TX. 
An IMS 7012 HP Versi-Dredge cleans out a cove at Lake Lottawana in Kansas City, MO. 
A nationwide leading supplier of peat moss for landscaping produces extremely high solids content while achieving laminar flow through a 12 inch discharge pipe utilizing their IMS 7012 HP Versi-Dredge.
Two IMS Model 5012 LP Versi-Dredge units with SolidsMaster and WeedMaster cutterheads restore Burnaby Lake to is former glory as an Olympic rowing center.
A Model 5012 LP Versi-Dredge clears a lake in Ecuador of invasive submerged / rooted vegetation.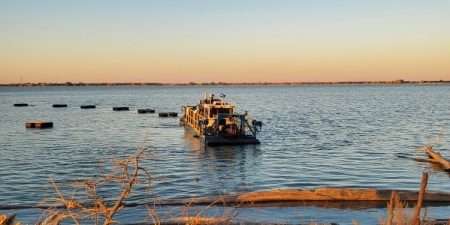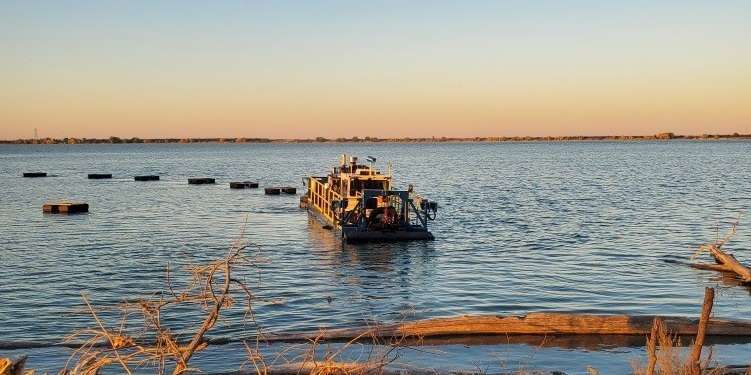 SUTHERLAND, NE – Plains Dredging of Kearney, NE found themselves in a difficult position in early October when the dredge they rented was not performing