Canal Dredging & Maintenance
Canals are vital for drainage, navigation, irrigation, and power projects around the globe.  Maintaining canals by removing sediment and debris ensures that waterway traffic continues to flow smoothly. The Versi-Dredge has been deployed around the globe to handle various canal dredging projects in India, Thailand, Iraq, China, Trinidad, Indonesia, Malaysia, Angola, and more.
If you would like to speak with someone about Versi-Dredge equipment and your canal maintenance & dredging needs, call (866) 483-0014 or  click "Get Started" below to tell us about your project.
IMS Versi-Dredges Maintaining Canals Around The World
Versi-Dredge Capabilities
The Versi-Dredge removes sediment from canals in controlled layers that allow the canal to be restored to its original even-bottom profile. The Versi-Dredge's SolidsMaster horizontal cutterhead creates a level cut – unlike basket-type cutterheads, which create overlapping cuts with ridges, or mechanical dredges that create an uneven moonscape on the bottom of the canal.
The forward motion of the Versi-Dredge allows the sediment to be removed in parallel layers in long passes, which is a much better solution for canal maintenance. Basket-type cutters require a constant re-setting of anchors and swing wires due to a canal's narrow design. Therefore, the Versi-Dredge is much more user-friendly and efficient for canal dredging.
The Versi-Dredge requires only one operator and does not require tender boats or additional personnel, which significantly reduces fuel and labor costs. The Versi-Dredge is also one-truck transportable and does not require any spuds, side tanks, or other equipment to be put into operation. Once it is in the canal, it is ready to hook up to the discharge line and pump.
The Versi-Dredge can remove buildup of sediment in canals that block drainage and contribute to flash flooding during heavy rain events. It is also ideal for cleaning and maintaining existing navigation canals. The IMS patented WeedMaster Cutterhead can be used in place of the standard SolidsMaster to remove hyacinths and densely rooted vegetation during canal maintenance. This will help restore full water flow to the canal system and adjoining irrigation ditches.
In some cases, the Versi-Dredge can be outfitted with the IMS Bi-Directional Broadcaster in place of the standard discharge pipeline. The Broadcaster allows the pumped slurry to be sprayed in a controlled arc to the shoreline. The sediment stays on the canal bank and the water flows back into the canal. This method has proven to be beneficial to wetlands in the United States for projects with the U.S. Army Corps of Engineers and U.S. Parks and Wildlife.
The Versi-Dredge's SolidsMaster Cutterhead achieves up to 25% solids consistently when dredging in canals. Swing dredges will cut up to 20% during the initial swing, but on the return swing will pump much lower solids. The Versi-Dredge is therefore using less water to remove sediments during canal dredging.
In some cases a canal might have a cement bottom liner. This is not a problem, as the Versi-Dredge's horizontal cutterhead can easily be outfitted with adjustable gauge wheels to prevent it from ever touching the liner. In addition, the Starwheels can be operated on the top surface in Paddle Wheel mode or on the bottom surface if the wheel tips are fitted with rubber boots to protect the concrete liner. Lined or unlined, IMS Dredge has the solution for canal dredging.
A birds eye view of Bay Island Drainage Districts IMS Model 5012 LP Versi-Dredge shows how the district uses spray dredging to quickly desilt their canal network and reducing discharge costs.
An IMS Dredge Model 5012 LP Versi-Dredge® cuts a channel through the center of a silted up canal system in the U.S. Midwest. 
An IMS Model 7012 HP Versi-Dredge® with a Dual Broadcaster Discharge Attachment dredges a river channel in Iowa to prevent future flooding.
An IMS Model 5012 LP Versi-Dredge® is being used to clean up decades of pollution and sedimentation in Brownsville, Texas canals.
An IMS Model 5012 LP Versi-Dredge® uses the Broadcaster Discharge Attachment to spray nutrient rich mud onto mangroves in Trinidad.
An IMS Model 5012 LP Versi-Dredge® uses the Broadcaster Discharge Attachment to spray nutrient rich mud onto mangroves in Trinidad.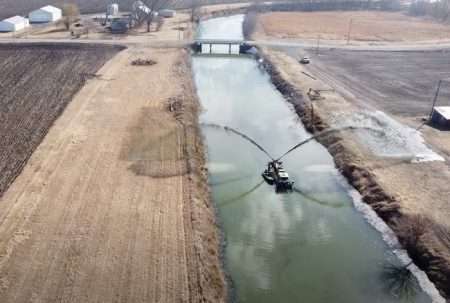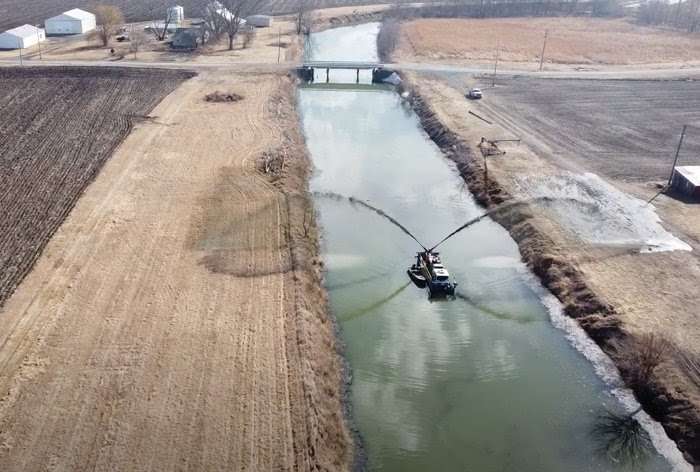 https://youtu.be/s6Fux8Jk1mIILLINOIS – Bay Island Drainage District of New Boston, Illinois recently took delivery of a brand-new IMS Model 5012 LP Versi-Dredge for annual drainage canal